Don't hesitate anymore, quickly save the experience of visiting Han Market Da Nang to prepare for your next trip to Da Nang.
If you have heard of Con Market, one of the largest wholesale markets in Da Nang and a popular street food paradise, then today Klook will take you to another bustling market, Han Market.
A complete Da Nang trip is not complete without a visit to Han Market. The vendors are close together, with all kinds of goods, along with a diverse food area, fresh seafood, and specialties for you to buy as gifts, surely will bring extremely exciting experiences.
Introduction to Han Market Da Nang
In the Thien Nam Tu Chi Lo Do Thư compiled by Do Ba in the mid-17th century, Han Market was mentioned as one of the culinary centers of the Quang region. Until the end of the 19th century, the French built Han Market with two distinct areas: Han Market street and Han Market area.
To facilitate large-scale trade, the French also built the La Gare Tourane-Marché intermediate railway station to transport goods to the main station on the banks of the Han River. Some agricultural products were still transported to Han Market by waterway and landed at the old station until the 1990s.
Today, Han Market is located in the city center, near the Han River swing bridge, with four sides adjacent to four major streets: Tran Phu, Bach Dang, Hung Vuong, and Nguyen Thai Hoc, with a total area of up to 28,000m², including three market halls and hundreds of kiosks arranged neatly, making shopping and sightseeing easier.
It can be seen that Han Market Da Nang was built in an extremely convenient location for transportation, and has been invested and developed for many decades, so it is not surprising that it has become an important shopping address, familiar not only to the people of Da Nang but also to tourists when visiting the city of Da Nang.
Where is Han Market located ?
Han Market Da Nang is located at 119 Tran Phu, Hai Chau 1 Ward, Hai Chau District, Da Nang City, only about 1km from the Han River swing bridge.
Han Market is located in the central area, so transportation and roads here are very convenient. You can get to Han Market by car, motorbike, taxi, or even bus with a very simple route, or even by walking.
From the Dragon Bridge, you just need to go to the end of the bridge, then turn right onto Bach Dang Street and then turn left onto Hung Vuong Street to get to the Han Market area.
Opening Hours of Han Market Da Nang
Han Market opens very early in the morning at 6am and closes at 10pm. However, by around 7pm, the market starts to close down, so if you want to shop comfortably with a full range of goods, you should visit the market before this time.
What to Eat at Han Market Da Nang?
It's really hard to answer what to eat at Han Market because there are so many delicious dishes from Da Nang or Quang Nam in general. However, there are some dishes that you must try when visiting Han Market, including:
Banh canh
Price: 15,000 – 30,000 VND / bowl
One of the famous dishes at Han Market Da Nang is Banh canh. Banh canh at Han Market is prepared in many ways: banh canh with crab meat, banh canh with pork bone, bánh canh with egg rolls, served with breadsticks or bread. Regardless of the version, bánh canh here has a bold and delicious flavor. This dish is mainly sold at lunchtime or in the afternoon, so you should take note of the time to come and enjoy it.
Banh xeo
Price: 10,000 – 50,000 VND / piece or plate
Banh xeo at Han Market is a super attractive and cheap dish. The cake is crispy with a fragrant crust, golden with a variety of fillings such as shrimp, pork, eggs, and beansprouts. When eating, the banh xeo is cut into small pieces and served with raw vegetables, rolled in thin rice paper. On a cool day or when it's raining, come to Han Market and enjoy hot banh xeo, there's nothing better than that.
Banh beo, banh bot loc, banh ram it
Price: 10,000 – 20,000 VND / plate
Traditional leaf-wrapped cakes such as banh beo, banh bot loc, or banh ram it cannot be missed. Not only are they one of the distinctive dishes at Han Market, but they are also a familiar breakfast of the people of Da Nang. Although these dishes are not unique to Da Nang, when enjoying them at Han Market, you will feel the alluring and unique flavor.
Nem lui – Bo la lot
Price: 25,000 – 40,000 VND / plate
This is probably the dish that will make your stomach grumble when you think about it. There are many ways to enjoy nem lụi Da Nang: eating grilled nem directly on skewers or rolling nem in rice paper with raw vegetables. In addition, many nem shops also suggest combining nem lụi with banh xeo or grilled meat vermicelli, making the dish more diverse.
Mi Quang
Price: 20,000 – 30,000 VND / bowl
Coming to Da Nang without trying Mì Quảng, a typical dish of Quang Nam cuisine, would be a waste. Han Market Da Nang has both Mì Quảng Phú Chiêm with shrimp, crab, meat, quail eggs, and frog Mì Quảng. Mì Quảng at Han Market has a rich broth, chewy noodles, with fresh and delicious ingredients, and the price is only from 20,000 VND – very cheap for a big love, right!
Snails
Price: 15,000 – 20,000 VND / plate
Snails are a very popular snack in Da Nang, so the snail selling area at Han Market is always crowded and bustling all year round. The snails here are prepared very attractively when soaked in spicy lemongrass sauce, with coconut rice, shredded papaya, mango, and green banana, served with aromatic herbs and ginger sauce. This "memorable" dish costs only 15,000 VND.
Smoothies and Sam Bo Luong
Price range: 10,000 – 15,000 VND / glass
If you come to Han Market Da Nang in the summer, you must find a sweet and refreshing drink, especially the avocado smoothie and sam bo luong. The fragrant and creamy avocado flavor mixed with crushed ice, fresh cream, and dried coconut, melting on your tongue, will make you feel like you are enjoying the whole summer. In addition, the sâm bổ lượng dessert is also very popular due to its refreshing taste.
Specialties of Han Market Da Nang Not to Be Missed
Han Market Da Nang offers a wide range of Da Nang specialties for you to consider and buy as gifts for your loved ones and family.
1. Various types of fish sauce
When in Da Nang, you must buy fish sauce to take home, as this is the best way to bring the full flavor of Da Nang to your home. From fish sauce made from anchovies, mackerel, and shrimp paste to fermented fish sauce, shrimp paste, and crab paste… all of them are unique and delicious. You can choose from any of the fish sauce stalls at Han Market, especially Aunt Can's fish sauce.
2. Various types of dried seafood
Having a large coastal area, it's no surprise that Da Nang is famous for its fresh and delicious seafood. At Han Market, dried or pre-marinated seafood is sold in abundance, almost everything is available. The interesting thing is that you get to try a bit before deciding whether to buy or not.
The prices of dried food products at Han Market are packaged cleanly with prices listed on the packaging, bottles, jars, so you can comfortably view and choose the most satisfactory product.
3. Banh kho me ( sesame dry craft )
Sesame dry cake or cakes made from sesame are definitely a sweet gift that you can buy for children or sisters when coming to Han Market. The cake is made from rice flour, glutinous rice flour, white sugar, and sesame, poured into small square pieces, very fragrant and delicious.
4. Da Nang beef paste
Da Nang beef paste is very popular with its special aroma when wrapped in banana leaves, which no other region can imitate. This beef paste can be kept for a relatively long time under good storage conditions, so you can buy a lot to eat or give as a gift. There are quite a few stalls selling delicious beef paste right at Han Market with a price of around 100,000 VND/kg.
5. Jewelry – Souvenirs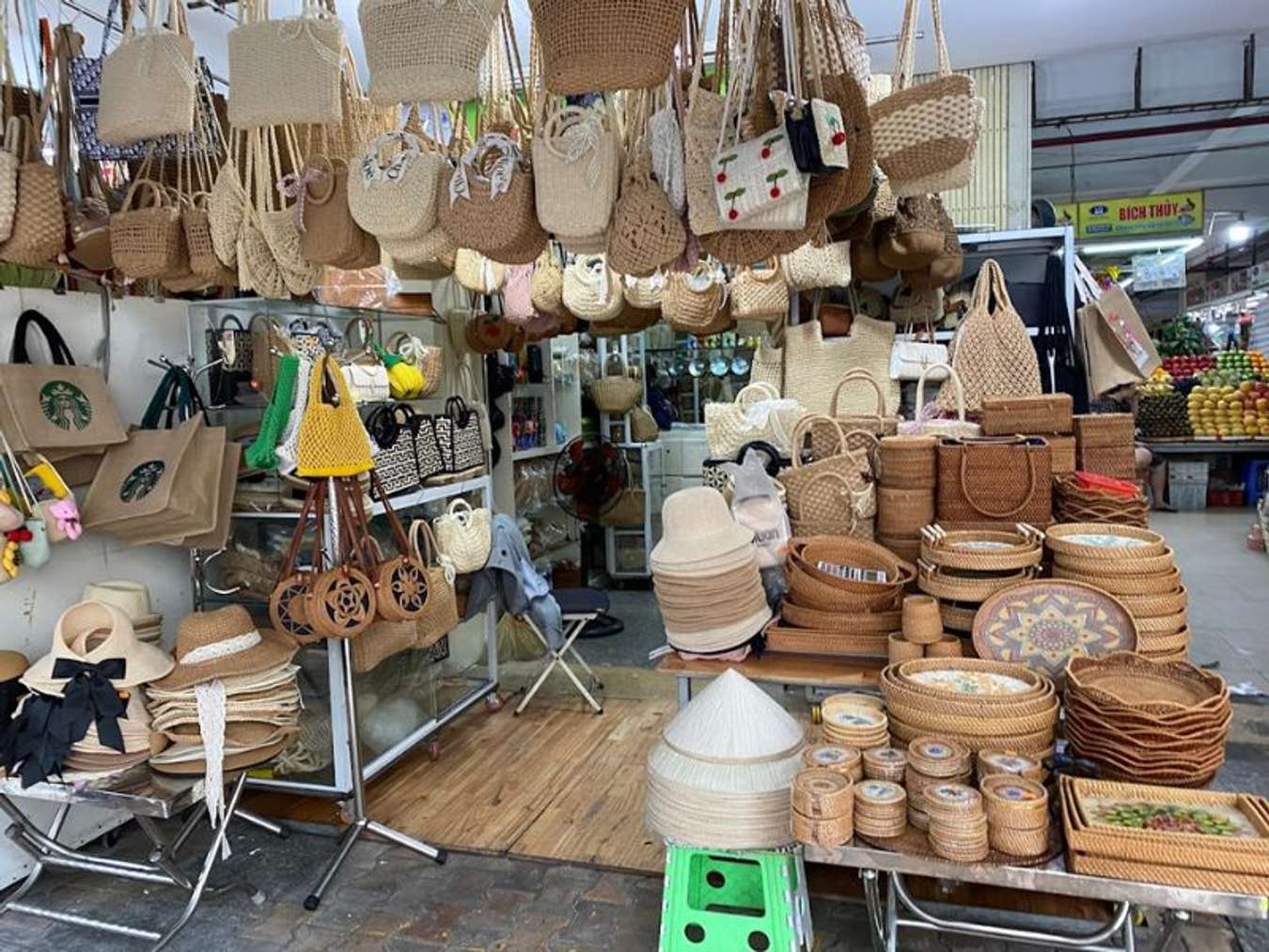 Items made from coir are the true souvenirs that carry the essence of Da Nang that you cannot find anywhere else. Handmade items such as hats, mats, bracelets, and necklaces, created with the creativity, skill of artisans, will be a eye-catching gift that you can give to your friends.
Hotels Near Han Market Da Nang
To make it more convenient for you to visit Han Market, you can book a Da Nang hotel in the Dragon Bridge or Han River bridge area. This location is also the city center, making it easy for you to visit other tourist destinations in Da Nang.
1. Vinpearl Condotel Riverfront Da Nang
Address: 341 Tran Hung Dao, An Hai Bac Ward, Son Tra District, Da Nang City
Price: 922,000 VND/night
2. Muong Thanh Luxury Song Han
Address: 115 Nguyen Van Linh, Nam Duong Ward, Hai Chau District, Da Nang City
Price: 625,000 VND/night
3. Seahorse Hostel & Bar by HAVI
Address: 7 Nguyen Thai Hoc, Hai Chau 1 Ward, Hai Chau District, Da Nang City
Price: 432,000 VND/night
4. Hadiva Boutique Hotel
Address: 137 Tran Phu, Hai Chau 1 Ward, Hai Chau District, Da Nang City
Price: 547,000 VND/night
5. Brilliant Hotel
Address: 162 Bach Dang, Hai Chau 1 Ward, Hai Chau District, Da Nang City
Price: 604,000 VND/night
Han Market owns a special position not only in Da Nang city but also in the hearts of local residents. No matter how many shopping centers or convenient stores are built, Han Market is still the place where Da Nang people like to go the most.
Thank you for reading the article on XuQuang.com
The article has been referenced from: klook.com