All About Son Tra Peninsula Tourism in Da Nang
When it comes to tourism in Da Nang, we cannot overlook the city's precious gem: Son Tra Peninsula, a pristine paradise of lush greenery. With a cool climate all year round, small and large beaches, shady forests, and diverse flora and fauna ecosystems, Son Tra Peninsula has a great appeal to both tourists and scientists.
Let's discover more about Son Tra Peninsula in Da Nang and share some fun experiences at this attractive destination.
Where is Son Tra Peninsula in Da Nang located?
It is situated in Son Tra district, about 8km from the city center of Da Nang towards the northeast. Son Tra Peninsula is easy to find, and you can get there by various means of transportation. The best time to visit Son Tra Peninsula is from March to September, when the weather is dry, and there is little to no typhoon or rain. If you visit during winter or other months, there may be rain or fog on the way, so please be careful.
How to get to Son Tra Peninsula in Da Nang?
The best way to fully experience the beauty of Son Tra Peninsula in Da Nang is to travel by motorbike or hire a car with a personal driver for safety and comfort.
If you are coming from Hue city, you can take Nguyen Tat Thanh road, cross Thuan Phuoc bridge, and arrive at Son Tra Peninsula.
For those departing from Hoi An, you can take the coastal road: Truong Sa – Vo Nguyen Giap – Hoang Sa – Son Tra Peninsula.
In addition, you can also travel along Han River or My Khe Beach – Pham Van Dong road to get to Son Tra Peninsula.
The Legend of Son Tra Peninsula in Da Nang
With its heavenly beauty on earth, it is no surprise that Son Tra Peninsula is associated with fascinating myths and folk tales.
The Legend of the Ban Co Peak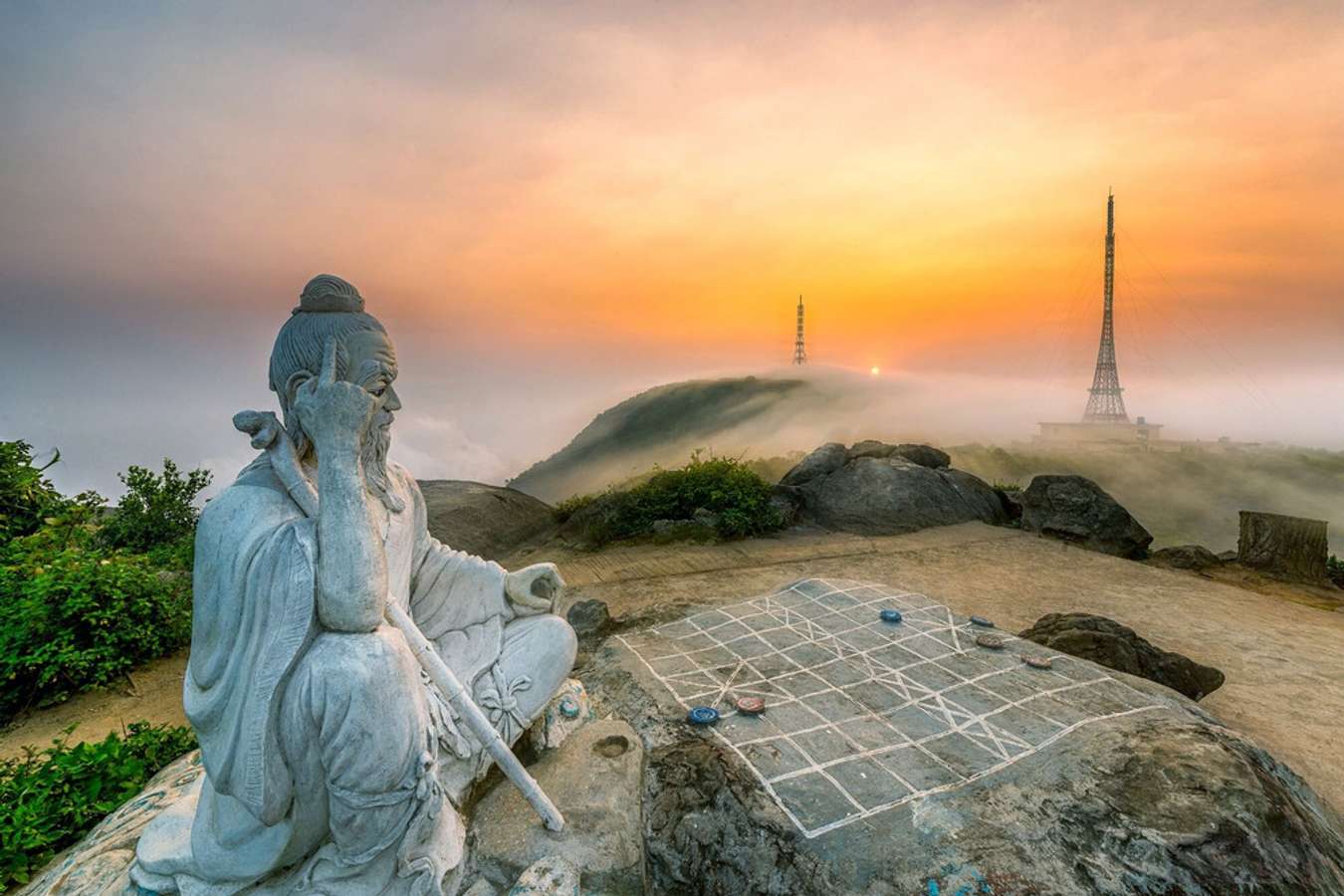 According to legend, when the mountains and forests were still wild, the fairies in the sky often came down to earth to sing and dance. It was also on the peak of Ban Co Mountain where two fairies played chess together. When one of them lost, he became angry, stamped his foot on the rock, and flew straight back to the sky, leaving a deep footmark that is now called Fairy Footprint. Beside the Fairy Footprint, there is also a deep well called Fairy Well.
Nowadays, on the Ban Co Peak, there is only the image of a fairy sitting pensively beside the unfinished chessboard.
Tien Sa Love Story in Son Tra Peninsula
According to legend, because of their deep love for the nature of Son Tra Peninsula, the fairies came here to play, taking off their dresses to immerse themselves in the water. Unexpectedly, a young man accidentally saw this scene and fell in love with the most beautiful fairy. He took her dress to keep her by his side.
As she couldn't find her dress to return to heaven, the fairy decided to stay in the mortal world and become the man's wife. When Ngoc Hoang (the Jade Emperor) heard about this, he became angry and caused a storm to ravage the fishing village. The fairy was heartbroken and had to return to heaven, leaving behind the man who missed her until he turned into a rock.
Ngoc Hoang (king of heaven) was moved by their love and made this area peaceful all year round. Today, people call this place Tien Sa Beach to remember the love story of the past.
Bai But Love Story in Son Tra Peninsula
According to legend, there was a young couple who lived together in a fishing village. The man worked as a fisherman, while the woman collected firewood and grew vegetables.
One day, during a storm, the man went out to sea and never returned, leaving his wife devastated with grief. Her cries could be heard all the way to the sky. At that moment, Ong But (Fairy man) appeared and advised her to do something to help the souls of those lost at sea find peace, and bring tranquility to the fishing village.
After speaking, the Ong But (Fairy man) disappeared, and the woman decided to become a Buddhist nun and pray for the people of the fishing village day after day at the nearby temple. In gratitude for the young couple, the people named this place Bai But and passed down their story of compassion.
Where to Go and What to Do in Son Tra Peninsula?
To list all the outstanding tourist activities in Son Tra Peninsula, Danang, there are countless options. Here are some noteworthy places and fun suggestions:
Linh Ung Pagoda on Son Tra Peninsula
As one of the three famous Linh Ung pagodas in Danang, Linh Ung Bai But Pagoda is a must-visit destination when setting foot on the Son Tra Peninsula. Located on the mountainside, Linh Ung Bai But Pagoda has magnificent and sophisticated architecture that seamlessly combines tradition and modernity.
The most important and prominent highlight of Linh Ung Bai But Pagoda is the largest statue of Quan The Am Buddha in Vietnam. The pure white statue is majestic, with its back facing the mountain and its face overlooking the sea. One hand is holding a seal of Tam Muoi, while the other is holding a vase of sweet dew for fishermen. Many tourists come to visit, pray, and admire the panoramic view of Danang city from above.
Radar Station 29
Radar Station 29, also known as the "Magic Eye of Indochina," is an American-built non-directional control station located on the top of Son Tra Mountain in the 1960s. In the past, this radar station could control the entire Indochina region, including Hong Kong and Hainan Island, China.
When visiting Radar Station 29, in addition to enjoying the panoramic view of the vast sea, you can also stroll through the military helicopter airport, which is very interesting.
Son Tra Lighthouse
Located quietly amidst the Son Tra forest mountains, the Son Tra Lighthouse is one of the eight oldest lighthouses in Vietnam. The Son Tra Lighthouse is also known as Tien Sa Lighthouse, built by the French in the 1950s. To get to the Son Tra Lighthouse, you will have the opportunity to follow the winding road leading up to Ban Co Peak, from which you can see panoramic views of the East Sea and the vibrant city of Danang, along with the Han River.
Bai But
Bai But is one of the must-visit tourist destinations in Son Tra Peninsula. Located in the southern part of the peninsula, Bai But has a pristine and pure atmosphere with the green color of the forest and the sea. In addition, there are also villas and ancient architectural works around Bai But, making the landscape here more lively.
Recently, Bai But in Son Tra has been invested and developed for tourism, so there are plenty of fun activities on the beach and under the sea for you to participate in.
Bai Rang
There are few places in Danang where the seawater is as clear and cool as Rang Beach Son Tra, with large and small rocks stacked along the coast. From Rang Beach, you can see the panoramic view of Danang's sea and a corner of Linh Ung Son Tra Pagoda in the distance.
The atmosphere here is very pleasant and relaxing, so common activities at Rang Beach are coral diving, swimming, camping, and hiking.
Coral reef diving
Visiting Son Tra Peninsula without experiencing coral diving would be a pity. Through the clear blue water, you can admire coral of various shapes and colors with schools of fish swimming around.
For those who cannot swim, don't worry, the staff at the diving sites will guide you on how to wear safety equipment and you can still participate in this activity without any hindrance.
Paragliding
A thrilling but incredibly fun experience for you at Son Tra Peninsula is paragliding at a height of about 600m. With this activity, you can admire the panoramic view of Danang from above while experiencing an extreme excitement mixed with suspense. This is truly a special and impressive activity for your trip to Danang.
What to eat at Son Tra Peninsula ?
When traveling to Danang, you don't have to worry about what to eat, especially at Son Tra Peninsula, where the forest and sea terrain meet, there are definitely some local specialties that are very attractive.
Fresh Seafood
When visiting Son Tra Peninsula, you must try the seafood. The surrounding area has many restaurants, markets, and vendors selling a variety of fresh seafood such as lobster, shrimp, octopus, barramundi, grouper, squid, crab, and more, all cooked to perfection. In the evening, while enjoying the cool sunset sky, savoring some grilled seafood with a cold beer and chatting with friends is an amazing experience.
Wild Vegetables and Meat
One of the interesting things at Son Tra Peninsula is that you can also enjoy mountainous specialties such as wild game meat and wild vegetables. The freshness and deliciousness of the meat need no further discussion. Don't miss the chance to taste the natural wild vegetables with Da Nang's unforgettable fish sauce. One of the must-try dishes when visiting Son Tra Peninsula is raw vegetables rolled with wild meat.
Coconut Wine
Coconut wine with its fragrant and spicy taste is the "brand" of Son Tra Peninsula. This specialty coconut wine is made from sticky rice and yeast, fermented in a small coconut, and still retains the sweet taste of coconut water, making it easy to drink. If you fall in love with the seafood and wild meat of Son Tra, remember to also try the coconut wine here.
Hotels on Son Tra Peninsula
A place as attractive as Son Tra Peninsula will definitely not lack hotels and resorts worth stopping by for a rest. You can refer to some of the following addresses:
InterContinental Danang Sun Peninsula Resort
Address: Bai Bac, Hoang Sa Road, Tho Quang Ward, Son Tra District, Danang City
Price: From 7,183,000 VND/night
New Day Hotel Danang
Address: 33 Ngo Cao Lang, Tho Quang Ward, Son Tra District, Danang City
Price: From 250,000 VND/night
Navy Hotel Danang
Address: 3 Yet Kieu, Tho Quang Ward, Son Tra District, Danang City
Price: From 400,000 VND/night
Tien Sa Retreat Resort Danang
Address: 1 Yet Kieu, Tho Quang Ward, Son Tra District, Danang City
Price: From 1,404,000 VND/night
Son Tra Resort & Spa
Address: Bai Nam – Bai Con, Hoang Sa Road, Tho Quang Ward, Son Tra District, Danang City
Price: From 1,772,000 VND/night
Son Tra Peninsula Danang is a breathtaking destination that offers visitors an unforgettable experience. From the stunning natural scenery to the delicious local cuisine and world-class hotels, Son Tra Peninsula is the perfect escape from city life. Come and discover the beauty of this hidden paradise and create memories that will last a lifetime.
Thank you for reading the article on XuQuang.com
The article has been referenced from: klook.com